How did I learn to cry?
Hello friend
Once upon a time, I was proud of the fact that I never cried.
Be it any serious situation in life or a dying character in a movie, I never shed a single drop of tear.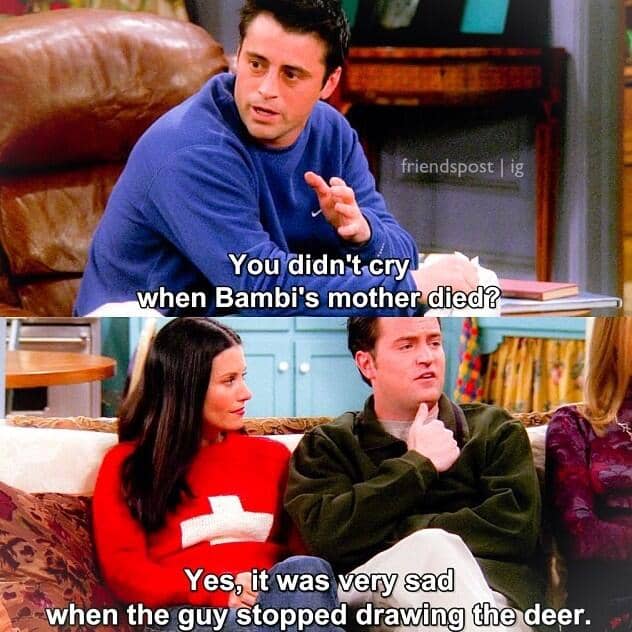 Courtesy: FRIENDS TV Show
At that time, it meant I was strong.
It meant I was a guy.
It meant I could handle emotions.
It meant I was capable enough to handle life.
Partly it was because of my upbringing where I was always taught that crying was a sign of weakness- something that girls do.
"Why're you crying like a girl?"
"You should be strong."
Or a variation of such phrases was not uncommon in those rare moments when I showed any signs of tears or breakdown.
Yes, damn you patriarchy!
However, things changed when I came across the idea and eventually the practice of meditation.
I still clearly remember the night when I was listening to a guided meditation at night. It was a chakra healing guided meditation where you also visualize a helpful group of guardian angels or your higher self by your side.
At one point in the meditation, it was as if a dam of repressed emotions broke leading to a flood of uncontrollable tears and heavy sobs.
My initial reaction was that of fear and resistance.
But thankfully, it did not last.
It was perhaps because, for the first time, my racing logical mind was in the backseat due to the deep relaxation in the beginning.
I let go of everything completely. I let all emotions pass through along with tears.
The whole episode lasted 10-15 minutes.
It felt like a huge load was lifted off my shoulders. I felt light, energized, and amazed at the experience.
It did not feel like any weakness.
On the other hand, I felt suddenly very strong.
At that time, I did not think too much about it (I was barely 22). I did not even have the insight into what had happened. A bigger incident occurred a few years later that made me understand my emotional psyche more deeply. (I wrote about it earlier in this blog).
However, what clearly changed after that meditation was I learned how to cry.
Most importantly, it changed how I perceived crying.
It is no longer a weakness.
It is not a stamp of femininity or masculinity.
It does not mean I cannot handle emotions.
On the contrary, it means I am open and aware of my emotions and hence in a better place to manage them.
I still struggle with crying sometimes. Old habits die hard, after all.
But the struggle is not as much as before.
When I do cry, I end up feeling better and stronger, almost always! 🙂
Until next time
Love
Vishal
If you liked reading this newsletter, sign up to get them straight into your inbox, every Wednesday!
(Visited 38 times, 1 visits today)